A Beautiful Practice For All Your Dental Needs
Facility
We are proud to provide a state-of-the-art facility for the highest quality dental care available. It is one of our top priorities to protect the well-being of our valued patients. For this reason, our office meets and surpasses all OSHA (Occupational Safety and Health Administration) and CDC (Center for Disease Control) standards. We are confident that you will feel right at home in our office as we welcome all patients as if they were family.
Appointments
If you would like to make an appointment, please contact our office by phone or email. Our office facilitates communications and emergency calls, and appointments are available and welcome, especially for new patients seeking help.
Financial
The Crossings Dental Center is pleased to accept most dental insurance programs used by major employers in our area. Please realize that the amount your insurance will cover is determined between you and your insurance company. It is our pleasure to assist you in filing your insurance claims. Do note that you are responsible for the amount that your insurance does not cover.
We are also extremely pleased to accept not only checks and cash, but the following credit cards: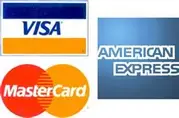 ......


Please click on the following link for more information regarding CareCredit: www.carecredit.com
Cancellation
Office hours are by appointment and we do value your time. This office is a private practice dental office and not a dental "clinic." Appointment time is reserved for you alone. Where appropriate, we prefer to schedule longer appointments so we can complete as much needed dental treatment as possible during one appointment. We feel this type of scheduling will cause minimal disruption to your daily schedule and will provide efficiency in completing your dental care. When you make an appointment, please be sure you will be able to keep it. Morning appointments may be best for more complicated procedures.
Like many offices, this office does call to confirm your appointment. Please make note of any dental appointments we have scheduled in a place where you will be easily reminded. If you cannot make an appointment as scheduled, please notify the office. THERE WILL BE A CHARGE OF $50 FOR A BROKEN APPOINTMENT OR CANCELLATION WITH LESS THAN 24 HOURS' NOTICE FOR YOUR APPOINTMENT.
If you have any questions about our appointment cancellation and no-show policy, please free to ask us.
We would like to take this opportunity to thank you for choosing our practice for your dental care.